God is Still Speaking, United Church of Christ
"Do not put a period where God has put a comma."
Gracie Burns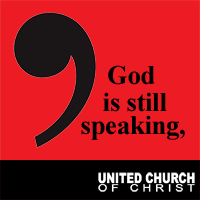 OUR national office of the United Church of Christ has launched an identity campaign to let people know what our denomination is all about.  Deering Community Church is one of the member churches that "opted in" to this national initiative. What that meant is that if someone saw the advertisement and asked to find a church in this area, our name would be given to them.  The advertisements are no longer being aired nationally; however, you can see these former ads and much more if you go to http://www.ucc.org/god-is-still-speaking/.
On our part we welcome all people warmly, wherever they are on life's journey and invite them to join us to learn about Jesus and his path of loving God, and loving and serving for our neighbors both near and far.
The whole Still Speaking web pages give a tremendous variety of information.  Please check it out.  Pastor Barbara will be glad to discuss any questions that you may have about this campaign. The response has been overwhelmingly positive.
Uniquely UCC from United Church of Christ on Vimeo.